Vermont Sexual Harassment Law and Training Requirements
Vermont Sexual Harassment Law and Training Requirements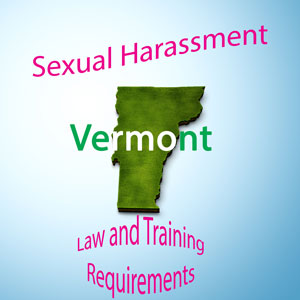 Category:
Info
Author Name:
TrainingABC
Posted:
06-14-2018 10:20 PM
Views:
1195
Synopsis:
On July 1st, 2018 Vermont's brand new sexual harassment law, "An Act Relating to the Prevention of Sexual Harassment" goes into effect with groundbreaking regulations that cover more employees and ensure that employers in the state are serious about preventing and responding to workplace sexual harassment. This comprehensive guide of sexual harassment law and training requirements in Vermont lists all of the most important differences between Vermont and Federal law.
On July 1st, 2018 Bill H707 goes into effect bringing Vermont's employee protections and preventative efforts to among the best in the country. The Act entitled "An Act Relating to the Prevention of Sexual Harassment" adds expanded employee coverage and a slew of new of new requirements for employers to the Vermont Fair Employment Practices Act.
Most of the provisions in Vermont law are not much different than federal law, but Vermont requires a lot of what the EEOC strongly suggests and expands on the number of employees covered by federal sexual harassment law.
The following are the Vermont provisions not in federal law.
In Bill H707 (2018)
Vermont law now covers independent contractors and unpaid interns. (Federal law does not cover either in most situations.)
Pre-employment contracts now cannot include provisions that take away the right to report harassment. These contracts were already unenforceable but may have deterred employees from reporting harassment.
Sexual harassment settlements now cannot prohibit the victim from working for the organization again. This provision is common in settlement agreements throughout the country.
The Attorney General and the Vermont Human Rights Commission now have the right to enter and inspect workplaces and records related to sexual harassment to ensure the law is followed. If deficiencies are found, sexual harassment training or other methods may be used as a remedy.
An online portal for complaints will be completed by December 15th, 2018. This portal should result in a smoother process for receiving, reviewing, and responding to complaints.
Provisions in pre-existing Vermont sexual harassment laws that differ from federal law.
The state's sexual harassment law applies to organizations with 1 or more employees covering every worker in the state. (Federal law applies to organizations with 15 or more employees.)
Vermont state law allows harassers to be named personally in a sexual harassment suit. (Only employers can be named under federal law.)
In Vermont, successful court judgments in sexual harassment suits are not capped. Victims can be awarded an unlimited amount of money in a suit. (Federal law starts with a $50,000 cap for employers with 15-100 employees and caps larger companies with 500 or more employees at $300,000)
Vermont law requires employers to adopt a harassment policy with specific guidelines, give the policy in writing to every employee, and post the policy in a prominent location in the workplace. (EEOC guidelines only "encourage" employers to adopt a policy that is "clearly and regularly" communicated employees.)
Vermont law protects all public and private employees in the state from harassment and discrimination based on sexual orientation or gender identity with an exemption for religious organizations. (The EEOC protects LGBT employees through its interpretation of sex discrimination in Title VII, however federal law does not specifically name sexual orientation and gender identity as protected groups.)
Vermont requires employers with 5 or more employees to explain the process of complaints and the contact information to file complaints. (The EEOC "encourages" employers to explain the process of complaints.)
Employees of private companies should be advised of their right to file a complaint with the Civil Rights Division of the Vermont Attorney General's Office or the EEOC.
Employees of public companies should be informed of their right to file a claim to the Vermont Human Rights Commission or the EEOC.
State of Vermont Guide on Sexual Harassment.
Guidance from the state of Vermont includes training every employee on sexual harassment in the first year of employment and specific training for supervisors who take and respond to complaints. While training isn't required, this guidance is encouraged by both Vermont and federal law. When an employer faces a sexual harassment suit, training is a critical factor in a legal defense. A training program for all employees helps prove the employer is serious about preventing sexual harassment and in cases of hostile environment harassment may help avoid or mitigate liability.
TrainingABC's sexual harassment courses - Sexual Harassment Prevention Made Simple and Sexual Harassment Prevention Made Simple for Managers will train your employees on the most important aspects of Vermont and Federal law.
About the Author
Comments on Vermont Sexual Harassment Law and Training Requirements