Sexual Harassment Prevention Made Simple
Sexual Harassment Prevention Made Simple
Details
Send to friend
Related products
Related Entries
Video-Based Sexual Harassment Training
The simple way to give sexual harassment training! This short but powerful sexual harassment video delivers the message about harassment with a no-nonsense style and presents everything your employees need to know in only 6 minutes. Combine the program with the 15 question quiz and your training is completed in only 15 minutes. Or, you can use the leader's guide to create a longer session. Training on this sensitive topic couldn't be any easier.
The program is perfect for employee orientation programs, yearly refresher training or as a meeting opener to a longer training program. However you use it, Sexual Harassment Made Simple will have an impact. This visually stunning program is shot completely in HD and is one of the newest videos on sexual harassment on the market. The program is completely up-to-date with all laws so you don't have to worry about missing anything.
This brand new Sexual Harassment course covers:
Quid Pro Quo Harassment
Hostile Environment Sexual Harassment
The Reasonable Person Standard
Prevention Techniques
Sexting
E-mail Harassment
Gender Harassment
Harassment by Non-Employees such as customers, vendors, consultants or delivery persons
Same-Sex Harassment
Pregnancy Jokes and Comments
Sexual jokes
Verbal behaviors such as suggestive whistling & catcalls
Unwanted repeated requests for dates & flirting
Leering
Physical behaviors such as back rubs, back scratching & hugs
Use of demeaning names
Social Networking sites
Legal consequences for harassers
And much more.
Over 1000 US companies use Sexual Harassment Prevention Made Simple and there is a reason why. The video is 100% high-quality HD, the content hits on every legal point about federal sexual harassment law and lastly, it is only 6 minutes in length. Throw in the 15 question quiz and your employees are in and out of their sexual harassment training in under 15 minutes. Our course actually covers more sexual harassment law than the longer videos on the market. When there are 6 poorly acted vignettes in a video, only 6 different scenarios are covered. Even if the narrator covers other parts of the law in between the acting scenes, critical information is missed.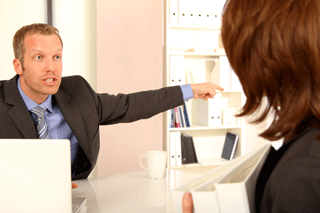 Co-Worker Retaliation: Is it Illegal?
Category:
Harassment
Author:
Jim McKay
Posted:
01-14-2018 05:42 AM
Views:
3168
Synopsis:
Search for information on retaliation and you will get 100s of websites describing retaliation perpetrated by supervisors and managers, however almost nothing about co-worker retaliation. However, co-worker retaliation does occur and is illegal when several conditions are met. This article will explain the law and in what situations non-management co-workers can commit illegal retaliation.