Active Shootings in the Workplace: Prevention & Survival
Active Shootings in the Workplace: Prevention & Survival
Details
Send to friend
Related products
Related Entries
It seems like active shootings are always in the news. They have become so common that breaking news about a shooting no longer causes surprise. Statistically speaking active shooter events are just a small portion of all workplace violence. However, their effect is so devastating that every workplace should be prepared. It just may save lives.
This brand-new active shooting prevention and survival course is one of a just a few courses on the market specifically for workplaces.
The course covers:
Active shooter profiles
Threat assessments
When to report to report suspicious behavior
Preparation
The Plan recommended by the homeland security, the FBI, and local law enforcement. Run, Hide, Fight
How to react when the SWAT team arrives.
Prevention strategies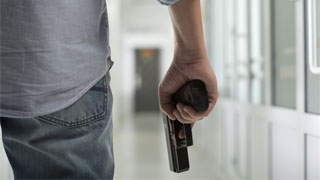 Planning for an Active Shooting in the Workplace
Category:
Safety
Author:
TrainingABC
Posted:
07-28-2018 07:01 AM
Views:
428
Synopsis:
It seems like there is another active shooting in the news on a weekly basis. The details are horrific and the tragedy almost never results in less than multiple deaths. While there is no way to keep your workplace completely safe, there are strategies to prevent a shooting from happening and survive a shooting if one occurs.