Preventing Slips, Trips and Falls in Healthcare Facilities
Preventing Slips, Trips and Falls in Healthcare Facilities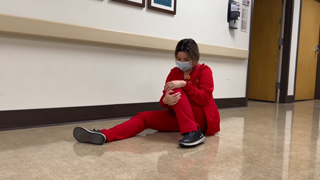 Category:
Safety
Author Name:
TrainingABC
Posted:
12-14-2021 07:47 AM
Views:
1862
Synopsis:
Every year slips, trips, and falls cost US businesses 11 billion dollars in workers' compensation claims, loss of productivity, and regulatory fines. Learn how to reduce and prevent these injuries.
Every year slips, trips, and falls cost US businesses 11 billion dollars in workers' compensation claims, loss of productivity, and regulatory fines. In the healthcare industry, the incidence rate of lost workday injuries from slips, trips, and falls, (STFs) is 90% higher than all other private industries combined. An employee suffering from an STF incident misses an average of 11 workdays, costing organizations millions of dollars.
OSHA's Surfaces Standard specifically requires employers to keep all walking-working surfaces clean, dry, and free of hazardous conditions. Healthcare organizations need to properly train employees to recognize STF hazards and how to prevent them in the workplace.
What Causes Slips, Trips, and Falls?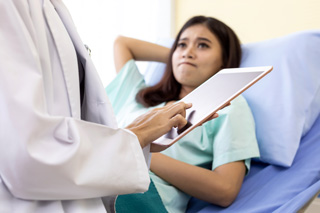 Healthcare facilities are busy environments with many different STF hazards. The following are the most common causes of STF in healthcare.
Floor contaminants such as water, grease or blood left on working surfaces.
Improperly aligned and clogged drains and water pipes that cause fluids to back up onto walking surfaces.
Indoor walking surface irregularities such as metal grates, damaged, warped, buckled, or uneven flooring, carpeting and mats.
Outdoor walking surface irregularities like protruding structures, holes, rocks, and other debris.
Weather conditions creating ice and snow that accumulate near hospital entrances, parking garages, walkways and outside stairs.
Inadequate lighting such as burned out light bulbs or poorly lit areas that impair vision and the ability to see hazards.
Indoor and outdoor stairs and handrails that are poorly marked or constructed.
Old, or poorly placed mats and runners that employees can trip on.
Loose cords, hoses, wires, medical tubing and other clutter that creates tripping hazards in hallways, walkways and work areas.
Stepstools and ladders used to work from heights that can cause falls.
Shoes worn that are not slip-resistant, have worn-down tread, or are clogged with dirt, food, debris, or snow.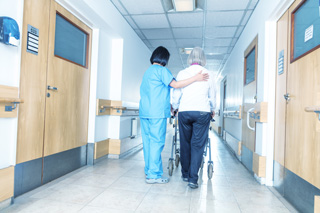 How to Prevent Slips, Trips and Falls
This program provides healthcare workers ways to reduce and prevent STFs that involve:
Clutter and Obstructions
Mats and Rugs
Housekeeping Procedures
Wet Surfaces
Walking Surfaces
Weather
Lighting
Steps and Handrails
Ladders
General Protocol
Clutter and Obstructions
To reduce STFs, remove clutter and keep exits, aisles, stairs and walkways in good repair and free of obstruction. Reroute or cover exposed cords. Provide floor plugs for equipment so power cords don't run across pathways. Bundle cords using a cord organizer on the floor covered with protective cover or tape. Mount cords under desks or on equipment.
Mats and Rugs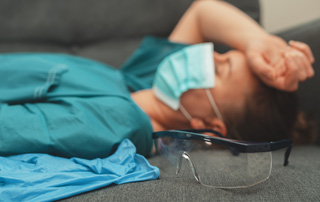 Mats and runners at healthcare facility entrances should allow for several footsteps to clean contaminants off of shoes before they contact the flooring.
To prevent STFs:
Use water absorbent and slip-resistant mats in wet areas where water, ice, or soap may drip onto the floor.
Arrange mats in the correct places daily with visual cues such as tape on the floor.
Straighten or stretch mats or carpets that bulge or have become bunched to prevent tripping hazards.
Use slip resistant mats to prevent movement.
Replace mats when they become worn, ripped or curled. Tape down edges if needed.
Housekeeping Procedures
Mark and immediately clean up all spills.
Provide employees with contact information for housekeeping via posters, bulletin boards and emails.
Educate employees on housekeeping procedures and display them where cleaning and safety products are stored.
Implement no-skid waxes to create non-slip surfaces in otherwise slippery areas.
Clean one side of passageways at a time to minimize hazards.
Utilize caution signs to warn employees and visitors of contaminated areas, and remove them when the floor is clean and dry.
Use caution tape and barriers to prevent entry into wet areas during cleaning and waxing of floors.
Wet Surfaces
Maintain proper drainage when wet processes are used. To prohibit water overflow, unclog drains regularly, redirect downspouts away from pedestrian traffic and align pipes to empty into their proper drains.
Staff working in continually wet environments such as dishwashing and surgical instrument decontamination areas are recommended to wear slip-resistant shoes. Ensure that drip pans of ice machines and food carts are properly maintained so that water does not spill onto the floor.
Walking Surfaces
Keep walking-working surfaces free of sharps, leaks, spills, snow, and ice and other hazards.
Inspect, straighten, and repair indented, uneven surfaces. Replace loose flooring and maintain in a safe condition.
If correction or repair cannot be made immediately, guard the hazard until corrected.
Patch, fill, or repave outdoor walking surfaces that have deep grooves, cracks, or holes.
Repairing any structural integrity requires a licensed a professional to supervise or perform the job.
Weather
Ensure that snow removal is appropriately scheduled and email staff of winter weather warnings.
Place labeled containers with ice melting chemicals and scoops to use on icy areas.
Secure and place these containers in high traffic pedestrian areas like parking garage entrances and exits, the top and bottom of outdoor stairways, and healthcare facility entrances.
Label containers with the appropriate Safety Data Sheets (SDS) and include instructions for handling ice-melting chemicals.
Make sure ice-melting chemicals are cleared away once walkways are dry.
Lighting
Replace light bulbs when out and keep areas well lit.
During night hours, provide adequate lighting and use flashlights or low-level lighting when entering patient rooms.
Furnish more light fixtures in poorly lit areas that emit light from all sides. Make light bulbs have an adequate brightness.
Make sure proper lighting exists in all halls and stairwells so that unsafe conditions may be recognized.
Steps and Handrails
Employers should provide handrails on all stairs, ramps and slopes.
Always use handrails on stairs, reduce speed, and keep an unobstructed view of each step.
Highlight curbs and other changes in walkway elevation with paint to warn of tripping hazards.
Ensure that stairs are slip resistant and free of ice, snow, water, and other slippery hazards.
Ladders
Only use properly maintained ladders to reach items. Never use stools, chairs, or boxes as substitutes.
Place ladders on level surfaces.
Keep two hands and one foot or two feet and one hand on the ladder at all times, known as 3 points of contact. Maintain until you reach the ground or a stable platform.
General Protocol
To prevent STFs, include regular walk throughs to identify and record hazards that must be addressed. Report all STF accidents and near misses even when there is no injury, to prevent recurrence.
Consequences
STFs lead to a loss in productivity, poor workplace morale, temporary staffing overtime, and turnover. The average STF costs healthcare organizations $40,000 per incident in medical expenses and lost wages.
Conclusion
Executing a slips, trips, and falls prevention plan avoids costly injuries, lost revenue and increased worker's compensation claims. Ensuring the safety of healthcare workers allows them to properly attend to the people in their care. When employees are injury free, they're able to not just excel at work but also enjoy their lives at home.
About the Author
Comments on Preventing Slips, Trips and Falls in Healthcare Facilities